[Top][All Lists]
---
[Date Prev][Date Next][Thread Prev][Thread Next][Date Index][Thread Index]
[Bug-gnubg] bugs with latest Windows build
---
| | |
| --- | --- |
| From: | Steve J. Baedke |
| Subject: | [Bug-gnubg] bugs with latest Windows build |
| Date: | Thu, 19 Dec 2002 20:51:19 -0500 |
| User-agent: | Mozilla/5.0 (Windows; U; Windows NT 5.1; en-US; rv:1.0.1) Gecko/20020823 Netscape/7.0 |
---
GNUBG folks. Great stuff lately. I hope the momentum you have keeps going!! Thanks.
In the latest Windows build from Nardy's site dated 021219, I have the following problems.
1) When the program starts, even though I have setting set to play clockwise, the initial board is set counter clockwise. As soon as the game starts, the board immediately adjusts itself and plays clockwise. Previous builds didn't do this.
2) In the following position, I get an error when I move 24/20 8/2. I've attached a png file with the error I get. The previous Windows build dated 021212 does not cause an error to be detected. Note however, I can hit the Ignore button and the game continues, so it isn't fatal.


    GNU Backgammon  Position ID: ht8OAkAaz8GAIQ
                    Match ID   : UQn6AAAAAAAA
    +24-23-22-21-20-19------18-17-16-15-14-13-+  O: someone
    | X  O        X  O | O | O  O           X |  0 points
    |    O        X  O |   | O  O           X |
    |                O |   |    O             |
    |                O |   |                  |
    |                6 |   |                  |
    |                  |BAR|                  |v 7 point match
    |                  |   |                  |
    |                X |   |                  |
    |                X |   |    X             |
    |       X        X |   |    X             |  Rolled 46
    |    X  X        X |   |    X           O |  0 points
    +-1--2--3--4--5--6-------7--8--9-10-11-12-+  X: me (Cube: 2)


Thanks again for all your hard work.

steve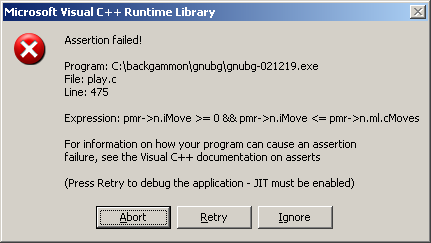 ---
---
[Bug-gnubg] bugs with latest Windows build, Steve J. Baedke <=
Re: [Bug-gnubg] bugs with latest Windows build, Steve J. Baedke, 2002/12/20
---