[Top][All Lists]
---
[Date Prev][Date Next][Thread Prev][Thread Next][Date Index][Thread Index]
Re: GTK file selector
---
| | |
| --- | --- |
| From: | Jan D. |
| Subject: | Re: GTK file selector |
| Date: | Tue, 27 Dec 2005 11:47:36 +0100 |
| User-agent: | Mozilla Thunderbird 1.0 (X11/20041206) |
---

Richard M. Stallman wrote:



   Yes, we can do this with the external widget feature in the new file
   chooser.  I will do this after the holidays so we can get some feedback
   on the actual text.

That is good.

Maybe it could also give help about typing C-l.


I've added it now, please take a look and see if it is ok. I may be a bit long. I've attached a screen shot.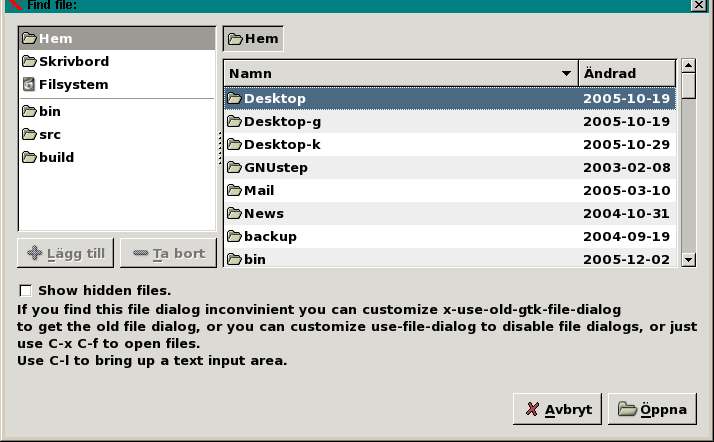 ---
---
Re: GTK file selector, (continued)

Re: GTK file selector, Richard M. Stallman, 2005/12/20
Re: GTK file selector, Jan D., 2005/12/20
Re: GTK file selector, Richard M. Stallman, 2005/12/21
Re: GTK file selector, Jan D., 2005/12/22
Re: GTK file selector, Richard M. Stallman, 2005/12/22
Re: GTK file selector, David Kastrup, 2005/12/22
Re: GTK file selector, Jan D., 2005/12/23
Re: GTK file selector, Richard M. Stallman, 2005/12/23
Re: GTK file selector, Jan D., 2005/12/24
Re: GTK file selector, Richard M. Stallman, 2005/12/25
Re: GTK file selector, Jan D. <=
Re: GTK file selector, Jan D., 2005/12/27
Re: GTK file selector, Stefan Monnier, 2005/12/27
Re: GTK file selector, Jan D., 2005/12/28

Re: GTK file selector, Richard M. Stallman, 2005/12/20
Re: GTK file selector, Jan D., 2005/12/20
Re: GTK file selector, Richard M. Stallman, 2005/12/20
Re: GTK file selector, Richard M. Stallman, 2005/12/19
Re: GTK file selector, Jérôme Marant, 2005/12/17
Re: GTK file selector, Pierre-Charles David, 2005/12/16
---