[Top][All Lists]
---
[Date Prev][Date Next][Thread Prev][Thread Next][Date Index][Thread Index]
Re: screen corruption
---
| | |
| --- | --- |
| From: | George Lengel |
| Subject: | Re: screen corruption |
| Date: | Sat, 09 Feb 2008 14:33:57 -0500 |
| User-agent: | Mozilla-Thunderbird 2.0.0.6 (X11/20071009) |
---

Robert Millan wrote:


On Fri, Feb 08, 2008 at 11:15:15PM -0500, George Lengel wrote:


I did encounter one problem. My screen is corrupted and the menu is unreadable. Grub is loading the menu correctly and if I wait for the timeout, everything boots fine. This is not a problem unless at some point I need to read the screen. :)



Can you take a picture of that?


I hope you can tell what is going on even though the picture is a bit out of focus. Each character is a fuzzy gray box instead of a letter.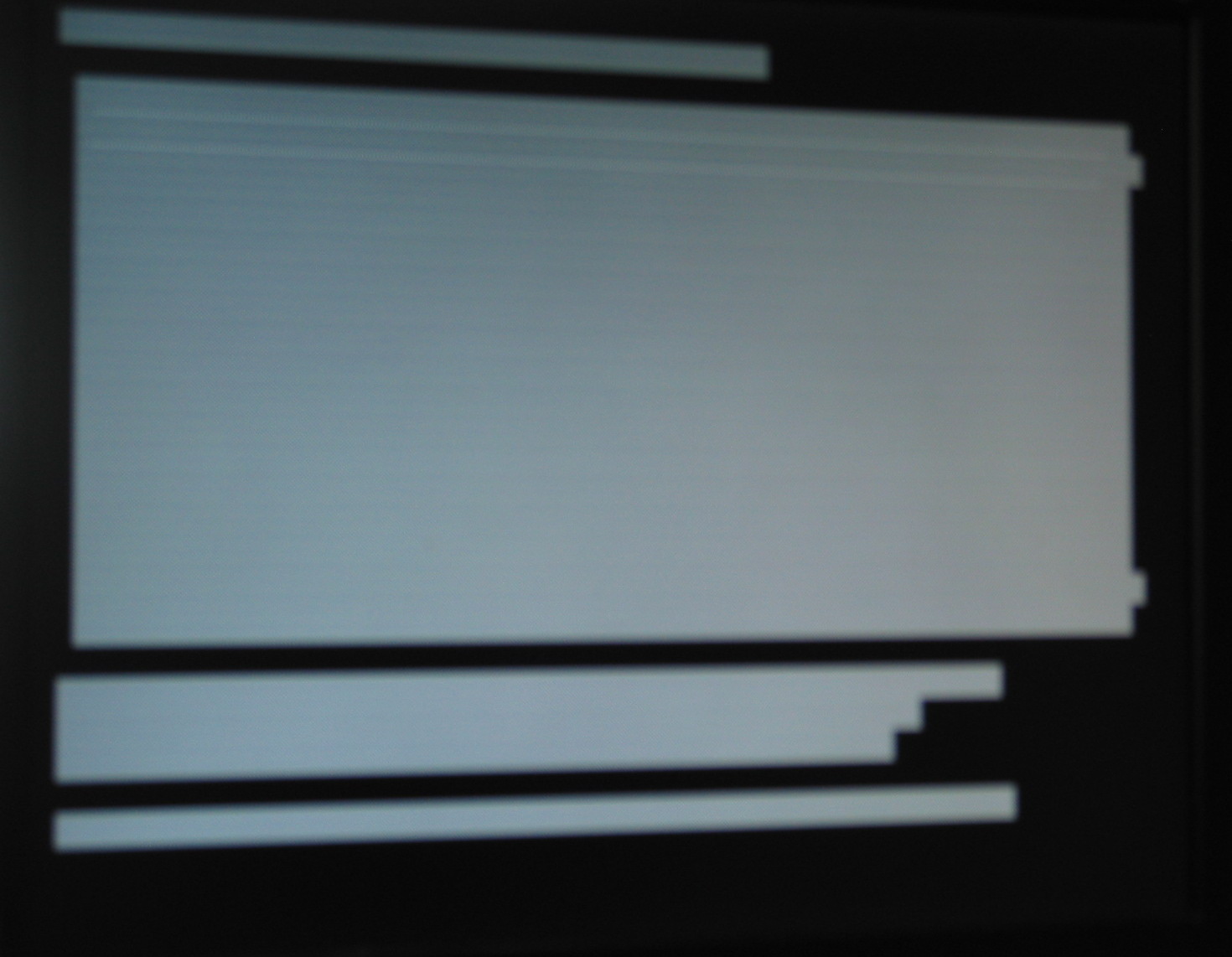 ---
---
root seems to be incorrectly set after install, George Lengel, 2008/02/02

Re: root seems to be incorrectly set after install, Robert Millan, 2008/02/02

Re: root seems to be incorrectly set after install, George Lengel, 2008/02/02

Re: root seems to be incorrectly set after install, Robert Millan, 2008/02/03
Re: root seems to be incorrectly set after install, George Lengel, 2008/02/03
Re: root seems to be incorrectly set after install, Robert Millan, 2008/02/03
Re: root seems to be incorrectly set after install, Yoshinori K. Okuji, 2008/02/03
Re: root seems to be incorrectly set after install, Yoshinori K. Okuji, 2008/02/03
Re: root seems to be incorrectly set after install (patch works), George Lengel, 2008/02/08
screen corruption, Robert Millan, 2008/02/09
Re: screen corruption, George Lengel <=
Re: screen corruption, Vesa Jääskeläinen, 2008/02/09
Re: screen corruption, George Lengel, 2008/02/09

Re: screen corruption, Robert Millan, 2008/02/09
---