[Top][All Lists]
---
[Date Prev][Date Next][Thread Prev][Thread Next][Date Index][Thread Index]
Re: unsolicited praise =)
---
| | |
| --- | --- |
| From: | Kieren Richard MacMillan |
| Subject: | Re: unsolicited praise =) |
| Date: | Sun, 14 Aug 2005 22:02:25 -0400 |
---

Han-Wen:



Thanks!
it's not perfect yet, but we're getting there,



Agreed!



Han-Wen "sponsor me" Nienhuys.

How 'bout quoting a sponsorship cost for each of the fixes in this first measure: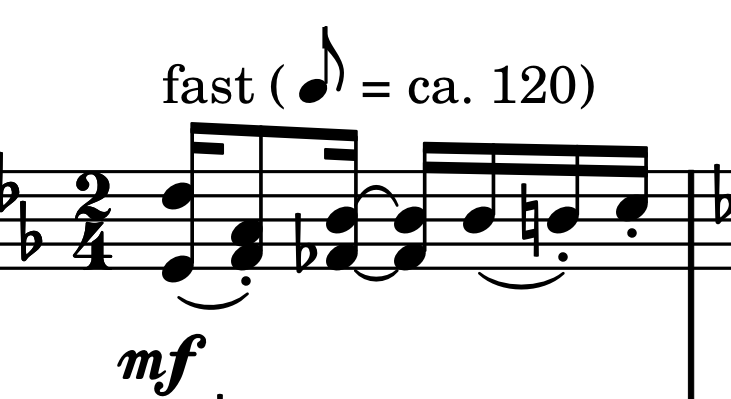 1. Ties between two notes spaced closely together on inner-staff lines: too tall.

2. Tempo indication notes (in \markup): flags not aligned correctly.

3. Slur-to-staccato on notes on the same line: slur starts too far from notehead. 4. Tempo indication: should be aligned with time signature (now \markup attached to note).


Thanks!
Kieren.
---
---
Re: unsolicited praise =), (continued)
Re: unsolicited praise =), Han-Wen Nienhuys, 2005/08/14
Re: unsolicited praise =), Kieren Richard MacMillan <=
Re: unsolicited praise =), Bec and John Silva, 2005/08/15
---