[Top][All Lists]
---
[Date Prev][Date Next][Thread Prev][Thread Next][Date Index][Thread Index]
Re: documentation formats
---
| | |
| --- | --- |
| From: | David Kastrup |
| Subject: | Re: documentation formats |
| Date: | Thu, 12 Nov 2009 07:10:07 +0100 |
| User-agent: | Gnus/5.13 (Gnus v5.13) Emacs/23.1.50 (gnu/linux) |
---
Kieren MacMillan <address@hidden> writes:

> Hi Graham,
>
>> If we did stuff in plain html, we'd lose the pdf docs.  If we did
>> stuff in plain latex, we'd lose the html docs (without a lot of
>> tweaking).  Both would lose the info docs, which IMO wouldn't be
>> terrible, but some people seem to like.
>
> I don't even know what the "info docs" are, so IMO...?

Let me post a screen shot from Emacs.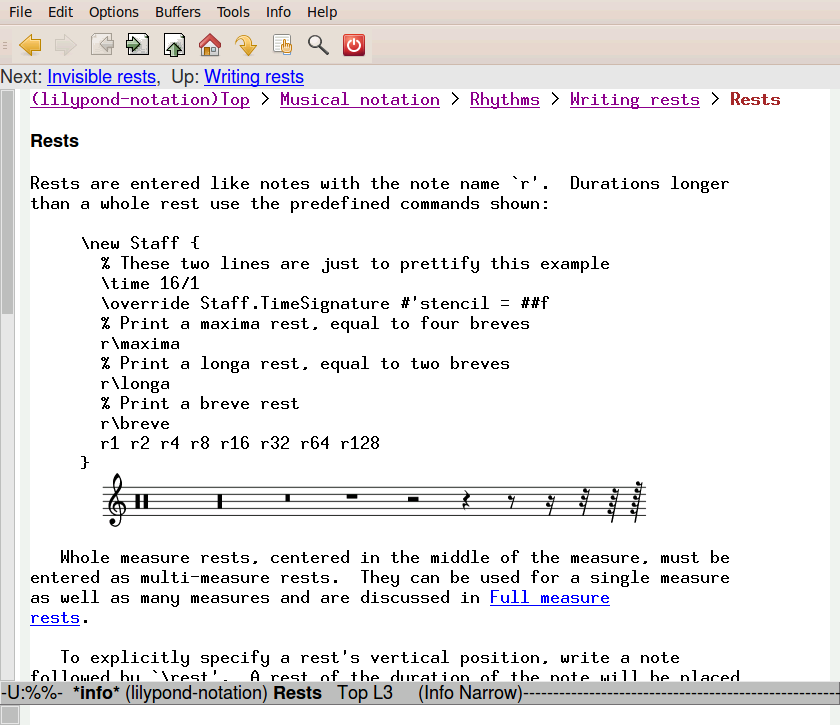 This opens right in my editor window.  It has structured navigation
which does not go off-screen, you can navigate using single keypresses,
you can search plain text, you can copy and paste, rendering is
instantanously, the whole document is indexed and you can navigate by
search index.  And it shows both Lilypond input and output.

Very valuable if you use Emacs, still useful when using an external info
reader.  I can switch back and forth between info pages and source code
without changing my editing window.

Yes, it is a life-saver for working with Lilypond with me.

-- 
David Kastrup

---
---
Re: Quit [now definitely O/T], (continued)
Re: documentation formats, David Kastrup <=
Re: documentation formats, David Kastrup, 2009/11/12
Re: Quit [now definitely O/T], Jan Nieuwenhuizen, 2009/11/12
Re: Quit [now definitely O/T], David Kastrup, 2009/11/12
Re: Quit [now definitely O/T], Jesús Guillermo Andrade, 2009/11/12
Re: Quit [now definitely O/T], David Kastrup, 2009/11/12
Re: Quit [now definitely O/T], Jesús Guillermo Andrade, 2009/11/12
Re: Quit [now definitely O/T], David Kastrup, 2009/11/13
Re: Quit [now definitely O/T], Kieren MacMillan, 2009/11/12
Re: Quit [now definitely O/T], Jan Nieuwenhuizen, 2009/11/12
Re: Quit [now definitely O/T], Kieren MacMillan, 2009/11/12
---