Hi Buggers,
I'm a newbie who has been trolling through some of the multivariate routines. A few observations below.
Cheers,
Mark
1. The extraction method in Factor
From the User's Guide:
Your default is what we used to call Little Jiffy (PC, correlation matrix, varimax, eigen >1):
The /METHOD subcommand should be used to determine whether the covariance matrix or the correlation matrix of the data is to be analysed.
By default, the correlation matrix is analysed.
In the routine, it's the covariance matrix: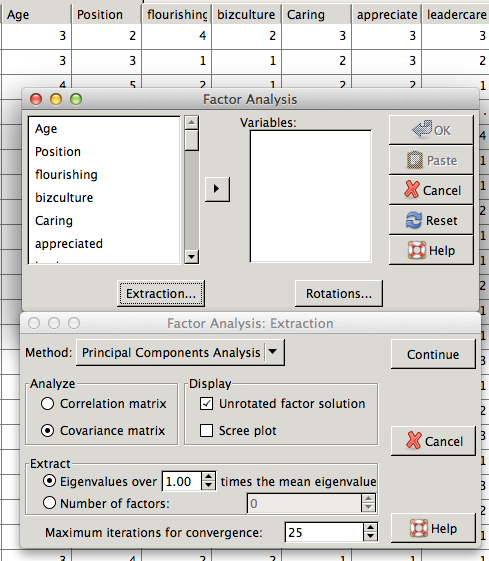 2. The Cluster routine
Not much to say except the O/P is not at all what I would expect and, quite honestly, uninterpretable to me, e.g. the cluster number by variable matrix AKA final cluster centers. Don't get it and there's nothing in the user guide to clarify. Also cases are assigned to clusters but there is no way to get the cluster assignment for the cases which you really need for analysis.
3. User's guide
The pagination of the user's guide does not match the pagination of the thumbnails (at least on Skim on my MacBook Pro OS10.8.4), for example look at the two versions of p. 131 below: