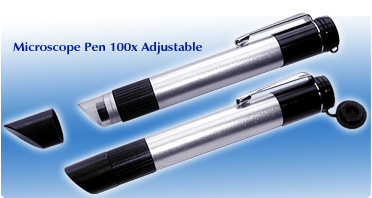 The Microscope Pen is a heavy duty, light in weight, portable and pocket size microscope. It allows you to examine details of a specimen which you cannot see with the naked eyes. It also comes with a pen clip for you to carry it while working. With a convenient adjuster ring, you can focus on your specimen in variety of applications. Protective covers prevent dust and fingerprints from getting on the lenses when not in use.
Please visit: http://www.MicroscopePen.com/ for detail.
Review: http://www.i4u.com/section-viewarticle-11.html
To unsubscribe, reply "remove & your email address" in the subject line.