---
[Date Prev][Date Next][Thread Prev][Thread Next][Date Index][Thread Index]
bug#33592: "herd restart term-tty2" caused *all* processes to be killed
---
| | |
| --- | --- |
| From: | Ludovic Courtès |
| Subject: | bug#33592: "herd restart term-tty2" caused *all* processes to be killed |
| Date: | Mon, 03 Dec 2018 09:44:15 +0100 |
| User-agent: | Gnus/5.13 (Gnus v5.13) Emacs/26.1 (gnu/linux) |
---
Hello,

Mark H Weaver <address@hidden> skribis:

> After killing a Wayland 'gnome-session' that I had launched from the
> command-line on tty2, the login prompt did not return as it normally
> does.
>
> I decided to try "herd restart term-tty2" to see if that would help.
> That turned out to be a serious mistake.  It caused TERM to be sent to
> all processes, most filesystems to be unmounted, and many (all?) core
> services to be stopped.  This left my system in a unusuable state,
> besides being able to switch between otherwise unresponsive text virtual
> terminals and issue SysRq commands.

Per 'guix system shepherd-graph desktop.tmpl', the only dependent of
'term-tty2' is 'console-font-tty2'.

I just tried in a desktop.tmpl VM and only 'console-font-tty2' is
restarted (screenshot attached.)  Same on my laptop, which uses Xorg but
not GNOME.

Could it be something with the Wayland-related services?  Could you
check 'guix system shepherd-graph' on your config?

Thanks,
Ludo'.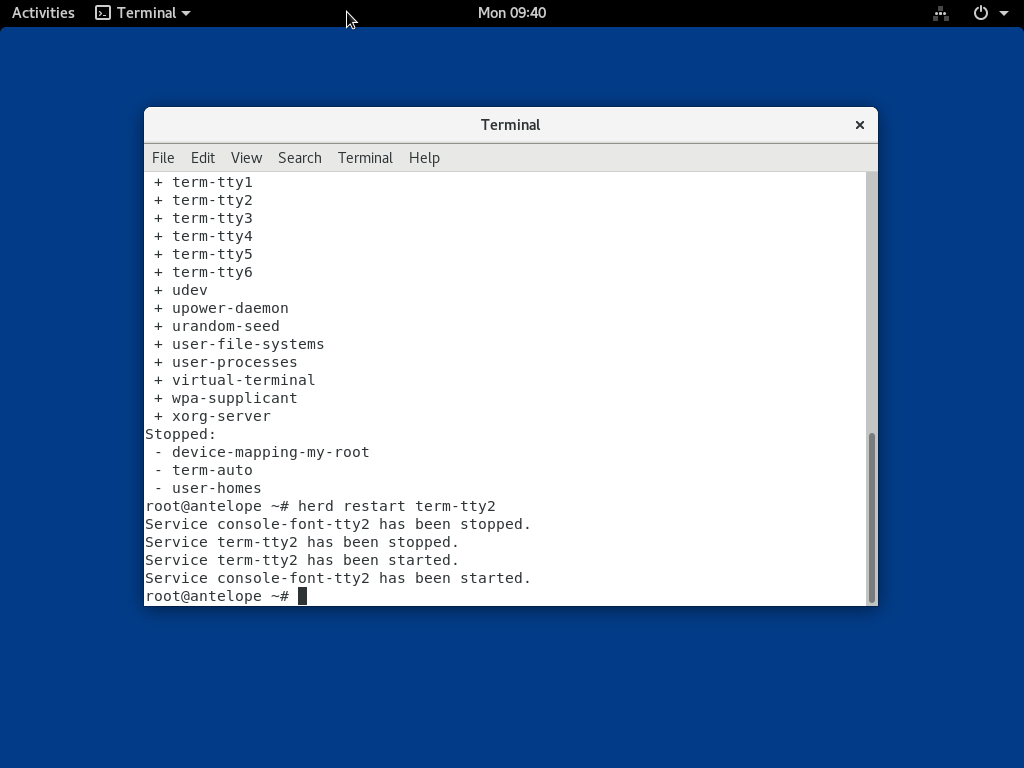 ---
---
---