---
[Date Prev][Date Next][Thread Prev][Thread Next][Date Index][Thread Index]
[Discuss-gnuradio] instructions for 2x2 mimo with USRP N210
---
| | |
| --- | --- |
| From: | Pengyu Zhang |
| Subject: | [Discuss-gnuradio] instructions for 2x2 mimo with USRP N210 |
| Date: | Fri, 13 Mar 2015 08:53:02 -0400 |
---
Hi,
I want to build a 2x2 mimo system using USRP N210. Would be great to get some instructions. I have the following questions.
1. As the following figure shows, should I use four N210s where two of them act as TX and the other two act as RX? Or can I use just two N210s?
2. When a router is used for connection as the following figure shows, how should I assign IP address for each of the USRP and the router itself? The subnet address (192.168.10.2 and 192.168.20.2) used for each USRP described in the following link is confusing for me...
Thanks.
Pengyu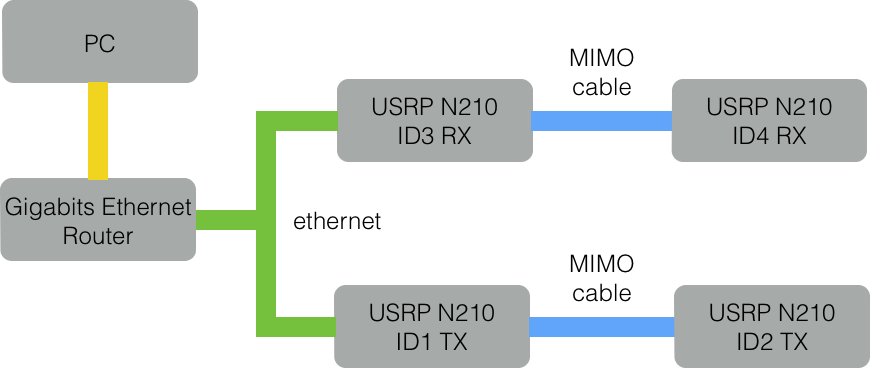 ---
---
[Discuss-gnuradio] instructions for 2x2 mimo with USRP N210, Pengyu Zhang <=
---