---
[Date Prev][Date Next][Thread Prev][Thread Next][Date Index][Thread Index]
Re: [Discuss-gnuradio] Ettus N210 GMSK 9600
---
| | |
| --- | --- |
| From: | Tom Golden |
| Subject: | Re: [Discuss-gnuradio] Ettus N210 GMSK 9600 |
| Date: | Thu, 24 Mar 2016 13:07:57 -0600 |
---
Sorry - I was attempting to be courteous to other users.
I added a Correlation Estimator before the MSK Timing Recover looking for 0x7E (the start frame byte for AX.25).  I think it found it (based on the image below) - unfortunately when it hits, execution stops with the error:
thread[thread-per-block[9]: <block msk_timing_recovery_cc (8)>]: mmse_fir_interpolator_cc: imu out of bounds.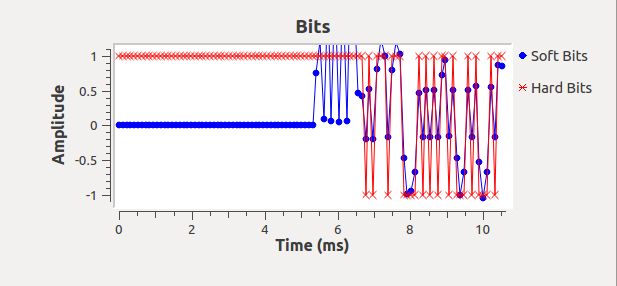 gmsk9600_test2.grc
Description: application/gnuradio-grc
---
---
Re: [Discuss-gnuradio] Ettus N210 GMSK 9600, (continued)
---