[Top][All Lists]
---
[Date Prev][Date Next][Thread Prev][Thread Next][Date Index][Thread Index]
Re: Problem with text beneath menus
---
| | |
| --- | --- |
| From: | Vinicius Jose Latorre |
| Subject: | Re: Problem with text beneath menus |
| Date: | Fri, 14 Sep 2007 16:27:16 -0300 |
| User-agent: | Mozilla/5.0 (X11; U; Linux i686; en-US; rv:1.8.1.6) Gecko/20070802 SeaMonkey/1.1.4 |
---

Jan Djärv wrote:




Vinicius Jose Latorre skrev:



Jan Djärv wrote:



What Gtk+ version, what theme?




GTK 3.5.5






Well, there is no such thing, I guess you mean Gnome. In Emacs, do "Help" => "About Emacs" and you will see the Gtk+ version next to the text "This is GNU Emacs ...".


Oops, I meant KDE 3.5.5.

GTK (libgtk2.0-0) 2.8.20-7




Theme:none, but Style:Baghira, WindowsDecoration:Plastik






Please try some other styles and see if the problem persists. Can you send screen shots?
I tried in another PC with another Style & WindowsDecoration, the results are the same.
When you click on "File" and the menu appears, is not the background for "File" the same as for "Edit", "Options" etc. when you move the mouse horizontally?





The menu, menubar and toolbar background color is the same for all menubar options when moving mouse horizontally.





I don't understand that sentence. Can you see "File" when you initially click "File" in the menu bar? If you click "File" and move down the "File" menu, does the text for the highlighted menu entries also not show? Screen shots would help here.


All highlighted text are visible.



    Jan D.




The problem is related with the tool-bar-mode as Marius Glauser reported.

When tool-bar-mode is on, the problem happens.

See the attached image (using Style:Comix).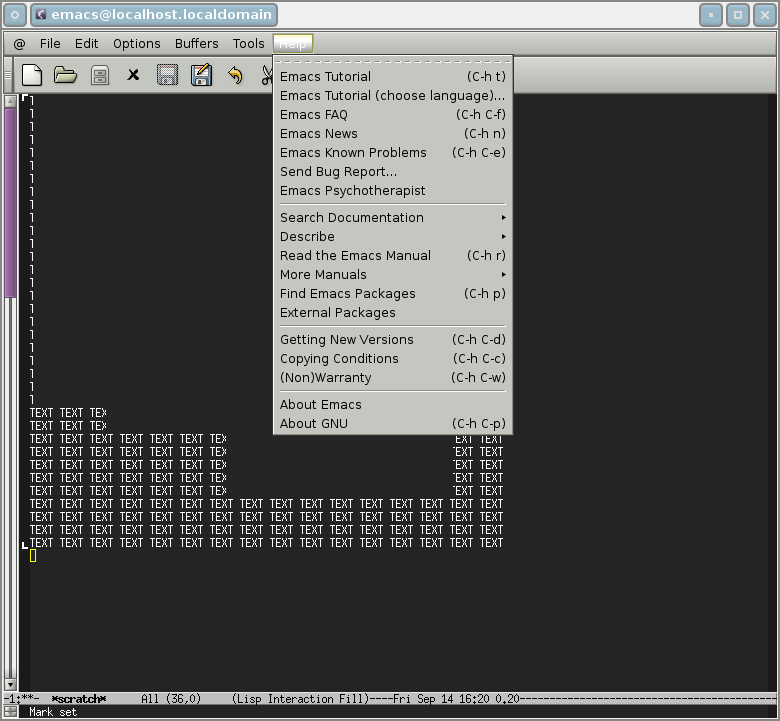 ---
---
Problem with text beneath menus, Vinicius Jose Latorre, 2007/09/12

Re: Problem with text beneath menus, Jan Djärv, 2007/09/13

Re: Problem with text beneath menus, Vinicius Jose Latorre, 2007/09/13

Re: Problem with text beneath menus, Jan Djärv, 2007/09/14
Re: Problem with text beneath menus, Vinicius Jose Latorre <=
Re: Problem with text beneath menus, Stephen Berman, 2007/09/14
Re: Problem with text beneath menus, Jan Djärv, 2007/09/15
Re: Problem with text beneath menus, Jan Djärv, 2007/09/16
Re: Problem with text beneath menus, Vinicius Jose Latorre, 2007/09/16
Re: Problem with text beneath menus, Eli Zaretskii, 2007/09/13
---