[Top][All Lists]
---
[Date Prev][Date Next][Thread Prev][Thread Next][Date Index][Thread Index]
Re: 23.0.60; describe-char gives wrong information
---
| | |
| --- | --- |
| From: | Peter Dyballa |
| Subject: | Re: 23.0.60; describe-char gives wrong information |
| Date: | Wed, 9 Jan 2008 11:05:05 +0100 |
---


Am 09.01.2008 um 03:51 schrieb Kenichi Handa:



Arial Unicode has U+1F48. It does not have it in a gb18030.2000-0
font encoding, because this code point is not defined in
GB18030-2000. So one of the first mistakes is to assume U+1F48 is
defined in GB18030-2000




The charset GB18030-2000 surely contains U+1F48.  Actually
it contains all Unicode characters.




and another one is to use a partial font
encoding like gb18030.2000-0




What do you mean by "partial font encoding"?  Anyway, as I
wrote before, the bug of selecting a font that doesn't have
the character should be fixed now.

Can be I misunderstood the standard and saw gaps in it when there none. Anyway: fact is that a few programmes show that arial unicode ms has U+1F48 and GNU Emacs 23.0.60 does not display it from the font's gb18030.2000-0 encoding. I am attaching two screenshots from xfd. The gb18030.2000-0 encoding variant starts far behind Greek at U +8140, which I understand as: this encoding does not provide glyphs outside some Chinese block(s).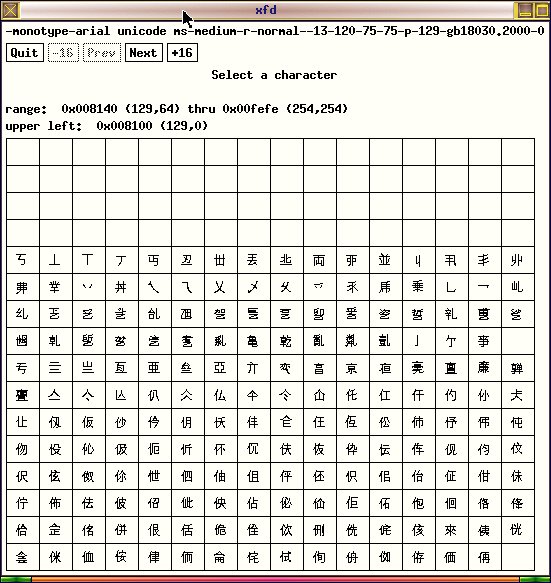 --
Greetings

  Pete

November, n.:
        The eleventh twelfth of a weariness.
                – Ambrose Bierce, "The Devil's Dictionary"




---
---
Re: 23.0.60; describe-char gives wrong information, Kenichi Handa, 2008/01/08

Re: 23.0.60; describe-char gives wrong information, Peter Dyballa, 2008/01/08

Re: 23.0.60; describe-char gives wrong information, Kenichi Handa, 2008/01/08
Re: 23.0.60; describe-char gives wrong information, Kenichi Handa, 2008/01/10
Re: 23.0.60; describe-char gives wrong information, Peter Dyballa, 2008/01/10
Re: 23.0.60; describe-char gives wrong information, Kenichi Handa, 2008/01/13
Re: 23.0.60; describe-char gives wrong information, Peter Dyballa, 2008/01/14
Re: 23.0.60; describe-char gives wrong information, Kenichi Handa, 2008/01/15
Re: 23.0.60; describe-char gives wrong information, Peter Dyballa, 2008/01/15
Re: 23.0.60; describe-char gives wrong information, Peter Dyballa, 2008/01/28
Re: 23.0.60; describe-char gives wrong information, Kenichi Handa, 2008/01/30
---