[Top][All Lists]
---
[Date Prev][Date Next][Thread Prev][Thread Next][Date Index][Thread Index]
Re: [Orgmode] Re: Sourceforge community award
---
| | |
| --- | --- |
| From: | peter . frings |
| Subject: | Re: [Orgmode] Re: Sourceforge community award |
| Date: | Fri, 12 Jun 2009 17:45:12 +0200 |
---


On 12 Jun 2009, at 17:34, Bastien wrote:



Hi all,

Brian van den Broek <address@hidden> writes:



I'd suggest adding a few checkbox items to the `Show off' item. `Clocking


tasks,' `Simple spreadsheet,' `Export to html and LaTeX,' and `Quick
capture with remember' seem useful.




I attach todo.org which contains some of the suggested modifications.
"Capture with remember" sounds familiar to Org users, but it may not
ring a bell to other people.



Finally, while I hope I am wrong about this, I suspect that it would be


better were the day abbreviations in English.




Sure!  Fixed in the file.

<todo.org><org-soft.png>
Peter: would you mind adding the Unicorn to this screenshot?



Sure! No prob!

Take <lost count>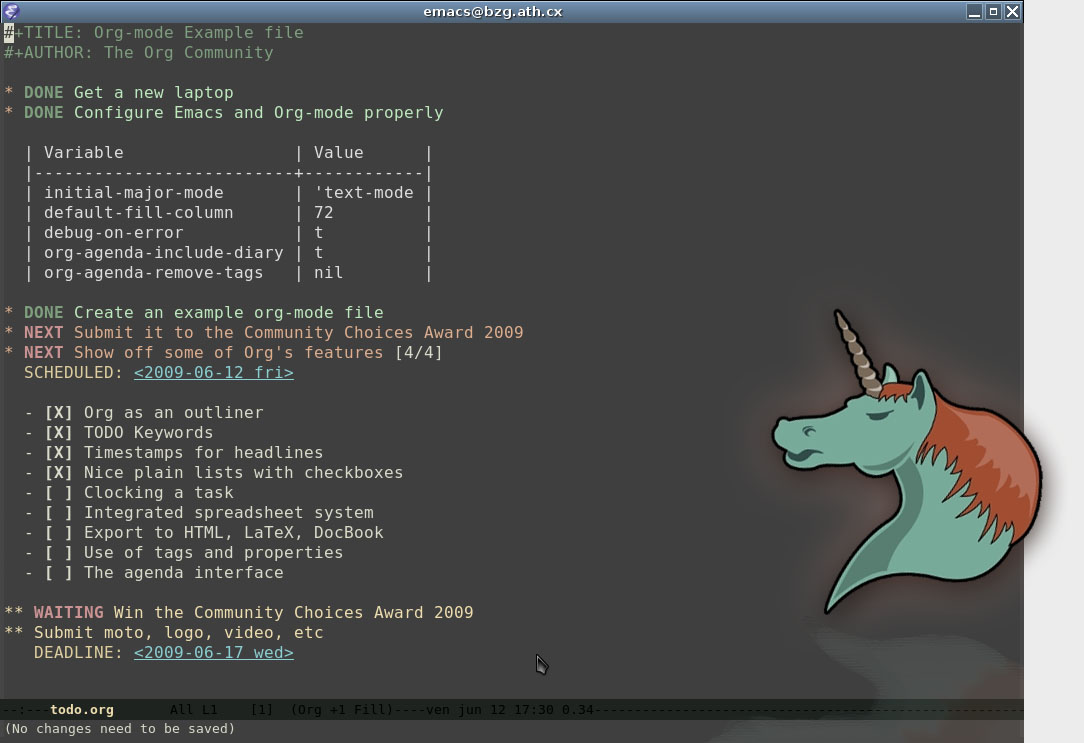 ---
---
[Orgmode] mail delivery problems..., (continued)
Message not available
Message not available
Re: [Orgmode] Re: Sourceforge community award, Carsten Dominik, 2009/06/12
Re: [Orgmode] Re: Sourceforge community award, Peter Frings, 2009/06/12
Re: [Orgmode] Re: Sourceforge community award, Bastien, 2009/06/12
Re: [Orgmode] Re: Sourceforge community award, peter . frings, 2009/06/12
Re: [Orgmode] Re: Sourceforge community award, Brian van den Broek, 2009/06/12
Re: [Orgmode] Re: Sourceforge community award, Bastien, 2009/06/12
Re: [Orgmode] Re: Sourceforge community award, peter . frings <=
Re: [Orgmode] Re: Sourceforge community award, Carsten Dominik, 2009/06/12
Re: [Orgmode] Re: Sourceforge community award, Samuel Wales, 2009/06/12
Re: [Orgmode] Re: Sourceforge community award, Eric Schulte, 2009/06/12
Re: [Orgmode] Re: Sourceforge community award, Sebastian Rose, 2009/06/12
Re: [Orgmode] Re: Sourceforge community award, Eric Schulte, 2009/06/12
Re: [Orgmode] Re: Sourceforge community award, Cameron Horsburgh, 2009/06/12
Re: [Orgmode] Re: Sourceforge community award, Sebastian Rose, 2009/06/12
Re: [Orgmode] Re: Sourceforge community award, Russell Adams, 2009/06/12
Re: [Orgmode] Re: Sourceforge community award, Carsten Dominik, 2009/06/12
Re: [Orgmode] Re: Sourceforge community award, Sebastian Rose, 2009/06/12
---