---
[Date Prev][Date Next][Thread Prev][Thread Next][Date Index][Thread Index]
[ft-devel] Multiple Master CFF support
---
| | |
| --- | --- |
| From: | Werner LEMBERG |
| Subject: | [ft-devel] Multiple Master CFF support |
| Date: | Wed, 17 Feb 2016 14:59:38 +0100 (CET) |
---

Folks,


as a proof of concept, I've enhanced the *old* CFF engine so that it
can read Multiple Master CFFs – to be more precise, it can display the
first master in the font (see attached image).

If you build FreeType (and the demo programs) in development mode with

  make devel
  make

support for the old CFF engine is automatically enabled and active if
you start e.g. `ftview'.


    Werner


PS: Multiple Master CFFs are a deprecated format; it has been
    completely removed from the CFF and Type2 specification more than
    15 years ago.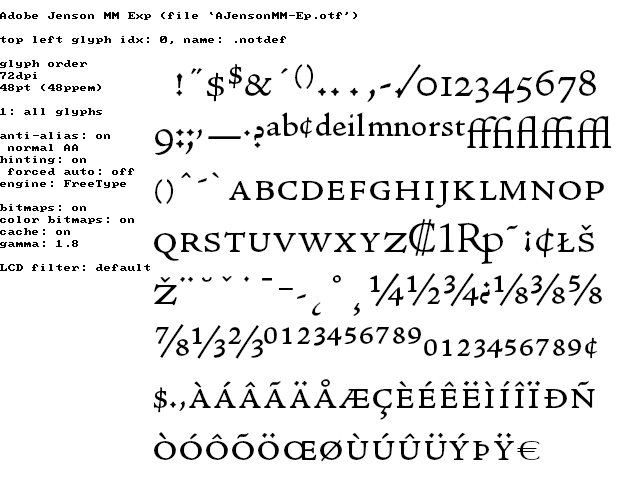 ---
---
[ft-devel] Multiple Master CFF support, Werner LEMBERG <=
---