[Top][All Lists]
---
[Date Prev][Date Next][Thread Prev][Thread Next][Date Index][Thread Index]
Re: [Gnumed-bugs] GNUmed 0.9.3 measurements selector does not identify m
---
| | |
| --- | --- |
| From: | Jim Busser |
| Subject: | Re: [Gnumed-bugs] GNUmed 0.9.3 measurements selector does not identify mixed within-cell signed states |
| Date: | Wed, 27 Apr 2011 18:04:30 -0700 |
---
Not a bug, but an ambiguity:

I kept selecting "Act on selected results" only to be frustrated by its failure 
to do anything. I was thinking to myself that, if it is abnormal, the actions 
that I might want to take are

- notify the staff to contact the patient and ask them to come in
- make a progress note linked to this one or more results

Then I thought "ok, this is unimplemented future use"

Then I thought "doh - this is maybe not a selectable menu action, just a 
comment describing the target of what was below the horizontal line"

--> maybe "Perform on selected result(s):"

... I wonder whether the convention of a colon ":" would usefully inform the 
user that the menu item is descriptive of all that is below?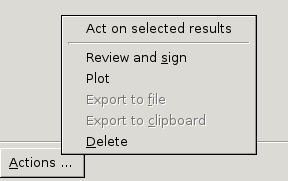 ---
---
---