[Top][All Lists]
---
[Date Prev][Date Next][Thread Prev][Thread Next][Date Index][Thread Index]
[Gnumed-devel] bugs in Contacts panel of Patient details
---
| | |
| --- | --- |
| From: | James Busser |
| Subject: | [Gnumed-devel] bugs in Contacts panel of Patient details |
| Date: | Mon, 21 Jan 2008 20:45:26 -0800 |
---
In the upper (Address) portion, the phrasewheel manifests the same problem as before but at least was partly visible peeking out *behind* the "Adding new address" widget screen, however with a twist. As can be seen in the screenshot, the phrasewheel picklist remained available even after I dismissed (cancelled) from the "Adding new address" widget.
Maybe it is still peculiar to wxMac because there have been times that even when I switched to a different application on my Mac, the front-most GNUmed window remained floating above the windows of my newly selected Mac application that was otherwise brought to the front.
Also in the same screen shot can be seen that when an existing communication channel was selected (lower left of screen)
Picture 12.png
Description: application/applefile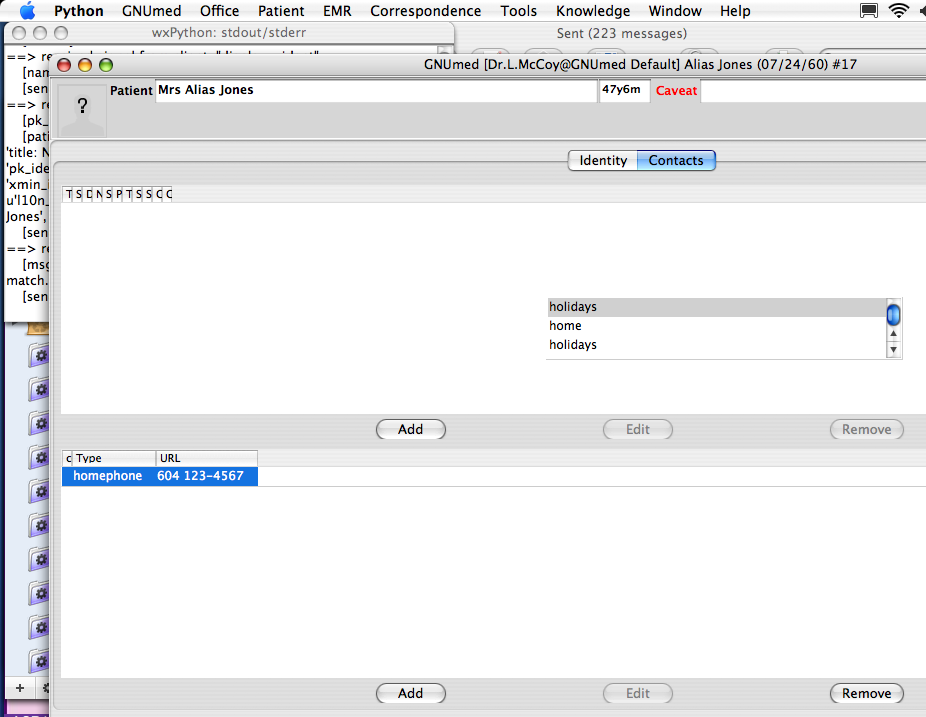 , the Edit button was dimmed.
---
---
[Gnumed-devel] bugs in Contacts panel of Patient details, James Busser <=
---