[Top][All Lists]
---
[Date Prev][Date Next][Thread Prev][Thread Next][Date Index][Thread Index]
Re: [Gnumed-devel] Patient whose name (in the public db) is in a differe
---
| | |
| --- | --- |
| From: | Jim Busser |
| Subject: | Re: [Gnumed-devel] Patient whose name (in the public db) is in a different alphabet... Greek to me? |
| Date: | Tue, 07 Jul 2009 09:41:10 -0700 |
---

On 7-Jul-09, at 7:28 AM, Karsten Hilbert wrote:



There is a patient who has (or who at least this morning had) inbox
results by name of

        Περαντώνη, Ms Ελένη (x)

just wondering... how manageable for the praxis assistants to search
for such a name i.e. how to input from the keyboard, even if the
staff would be familiar with the language?

I am wondering if such patients would often use a common-name (alias)
in the local language






That is a perfectly valid Greek name. Greek keyboards can perfectly well


enter those characters. For people not having a Greek keyboard but
needing to search for the patient I would recommend googling a greek
text and having the patient cut-n-paste the appropriate letters into
the search box. GNUmed can (should be able) perfectly fine search
for greek names.

You are kidding, right? If this patient -- say, as a visitor -- did appear for care with her name provided only in Greek characters, I cannot imagine the office assistants doing gymnastics to try to match the characters, neither later when having to handle a question about this person to match the sound of the name to a non-Latin character. I suppose the patient could be found in GNUmed using date of birth but I expect a better solution for the praxis would be to input a suitable alias.
e.g. I did use Google translate on the characters that I pasted from the name, and I got

        Perantoni, Ms Helen (x) 


There is a keyboard layout at wikipedia if that would help anyone (http://en.wikipedia.org/wiki/Keyboard_layout) whereas handily on the Mac some applications including the Mail application give direct access to the Mac character palette, of which I attach a screenshot with "Greek and Copric" selected:
Mac Character palette.png
Description: application/applefile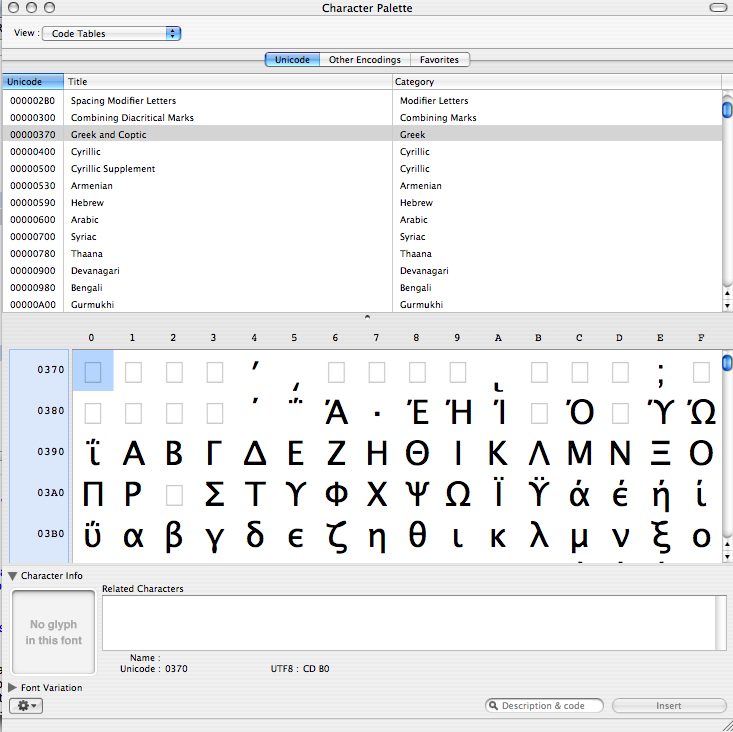 ---
---
Re: [Gnumed-devel] Patient whose name (in the public db) is in a different alphabet... Greek to me?, Karsten Hilbert, 2009/07/07
---