[Top][All Lists]
---
[Date Prev][Date Next][Thread Prev][Thread Next][Date Index][Thread Index]
Re: [Gnumed-devel] Kirk is a tobacco user
---
| | |
| --- | --- |
| From: | Jim Busser |
| Subject: | Re: [Gnumed-devel] Kirk is a tobacco user |
| Date: | Tue, 01 Dec 2009 12:57:01 -0800 |
---
(this time with attachment)

Comparing the last 2 screenshots, we can see that you changed the 
tobacco-associated problem from none to CVI risk protection.

OTOH there is nothing showing that accounts for how you edited the 
tobacco-smoking values to make the item "inactive".

Attached are the fields and values available for Edit in the non-CVS release 
that I am using (in the screenshot below showing HCT).

Maybe the tobacco usage item would originally have been "long term" (even 
though not approved-of) and would you afterward unchecked this box, making the 
tobacco-smoking "inactive"?

I am also not clear on how the edit field value of "duration" relates to what 
is displayed in the grid view under Duration:

- if no value is entered, displays a calculated value
        now() - started ??

- if a value is entered, displays date = started + interval ?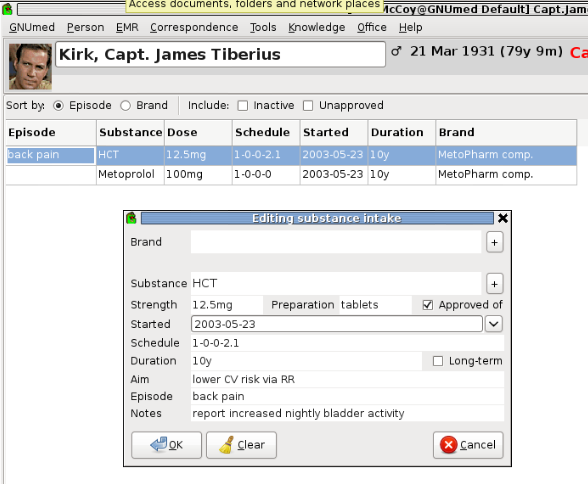 ---
---
---