[Top][All Lists]
---
[Date Prev][Date Next][Thread Prev][Thread Next][Date Index][Thread Index]
Re: [Gnumed-devel] Getting Canadian drug data into FreeDiams
---
| | |
| --- | --- |
| From: | Jim Busser |
| Subject: | Re: [Gnumed-devel] Getting Canadian drug data into FreeDiams |
| Date: | Sat, 20 Feb 2010 20:14:34 -0800 |
---
On 2010-02-20, at 10:49 AM, Eric MAEKER wrote:

> Can you send me a screenshot of the result.
> Try to prescribe one drug.
> Eric

Screenshot attached. FreeDIams does generate a column containing brand names, 
but the column does not seem searchable. The search text defaulted to hint 
nothing (maybe normal when first opening FreeDiams with a new database?) and 
the hint text did correctly appear after I went to the

        Prescriptions > Search method

and made a selection. But text input into the search box achieved nothing... 
even when I inputted "ATASOL" which was plainly in view.

I then opened ATASOL (by double clicking) and was presented with the empty 
second window which is in the foreground of the screenshot.

If you would like to download (11Mb) this database, I posted it via yousendit 
(free) available for the next 7 days

        https://www.yousendit.com/download/RmNCUXVoSU9CTW52Wmc9PQ

I will attach the improved Canadian scripts to the next email.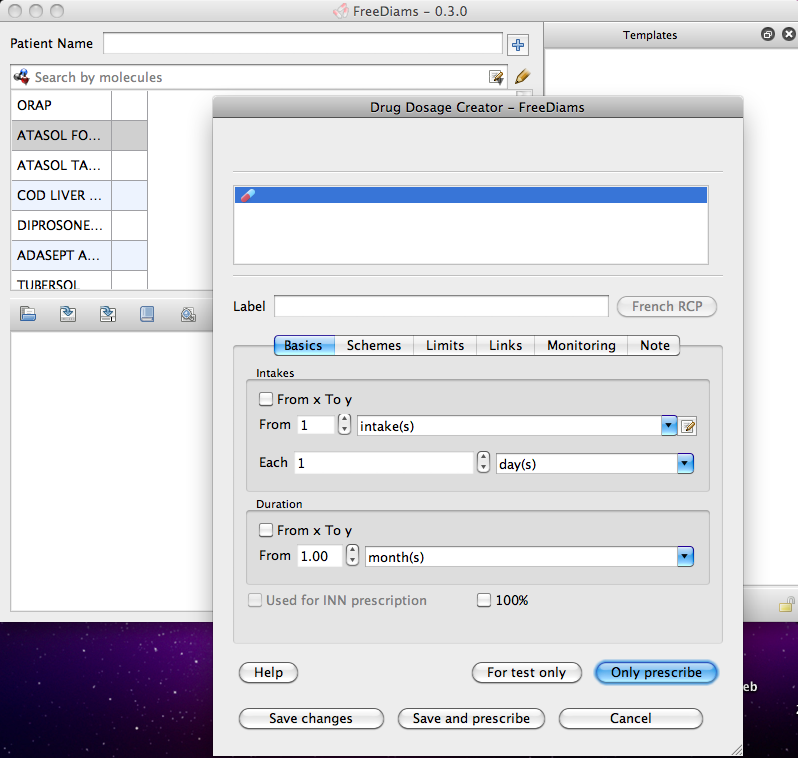 -- Jim


---
---
Re: [Gnumed-devel] Getting Canadian drug data into FreeDiams, (continued)
Re: [Gnumed-devel] Getting Canadian drug data into FreeDiams, Karsten Hilbert, 2010/02/19
Message not available
Re: [Gnumed-devel] Getting Canadian drug data into FreeDiams, Jim Busser, 2010/02/19
Re: [Gnumed-devel] Getting Canadian drug data into FreeDiams, Karsten Hilbert, 2010/02/19
Re: [Gnumed-devel] Getting Canadian drug data into FreeDiams, Karsten Hilbert, 2010/02/19
Message not available
Re: [Gnumed-devel] Getting Canadian drug data into FreeDiams, Jim Busser, 2010/02/20
Message not available
Re: [Gnumed-devel] Getting Canadian drug data into FreeDiams, Jim Busser <=
Re: [Gnumed-devel] Getting Canadian drug data into FreeDiams, Jim Busser, 2010/02/20
Message not available
Re: [Gnumed-devel] Getting Canadian drug data into FreeDiams, Jim Busser, 2010/02/21
Message not available
Re: [Gnumed-devel] Getting Canadian drug data into FreeDiams, Jim Busser, 2010/02/21
Message not available
Re: [Gnumed-devel] Getting Canadian drug data into FreeDiams, Karsten Hilbert, 2010/02/23
Re: [Gnumed-devel] Getting Canadian drug data into FreeDiams, Jim Busser, 2010/02/23
Message not available
Re: [Gnumed-devel] Getting Canadian drug data into FreeDiams, Karsten Hilbert, 2010/02/24
Message not available
Re: [Gnumed-devel] Getting Canadian drug data into FreeDiams, Karsten Hilbert, 2010/02/23
Re: [Gnumed-devel] Getting Canadian drug data into FreeDiams, Karsten Hilbert, 2010/02/23
Re: [Gnumed-devel] Getting Canadian drug data into FreeDiams, Karsten Hilbert, 2010/02/19
---