[Top][All Lists]
---
[Date Prev][Date Next][Thread Prev][Thread Next][Date Index][Thread Index]
[Gnumed-devel] Improving the context for creating Episode names
---
| | |
| --- | --- |
| From: | Jim Busser |
| Subject: | [Gnumed-devel] Improving the context for creating Episode names |
| Date: | Wed, 07 Jul 2010 17:14:19 -0700 |
---
I mailed Karsten offlist an unhandled exception when I had 5 notelets and 
clicked "Save all".

However users would separately benefit by the "save" process (even when it is 
debugged) being made clearer.

In the example below, the Notelets had been, in sequence (left to right):

- new problem
- Renal insufficiency, ...
- Diabetes
- Venous stasis, severe
- Gout
- Hypertension

I wanted to test how GNUmed "Save all" would handle:
1) the empty "new problem" notelet
2) the empty 'Hypertension" notelet

I assumed... incorrectly... that the Save dialog was being offered to me for 
the front-most notelet but maybe this only works when saving a single notelet 
using the separate Save button (instead of Save all). I knew I was wrong when I 
committed the OK and a tab disappeared, but not the Hypertension tab. I am 
thinking it must have been either the left-most tab (new problem) or the 
left-most tab that contained information (maybe Renal insufficiency, ...).

Ideally, "Save all" should offer to save first whatever is the front-most tab 
and, upon saving, close that tab and deduce which among the remaining has now 
become front-most, etc.

Whether or not this can be managed, the dialog window maybe needs to default 
wider (it is not even re-sizeable) to allow to see which problem is having a 
working name saved / created. Also the text "Enter a short working name for 
this new problem" appears unreliable since it may not be a new problem. maybe 
it is an old or new problem but it is the *episode* here being talked about as 
new? So should it be

        "Enter a short working name for this new episode of <Problem name>"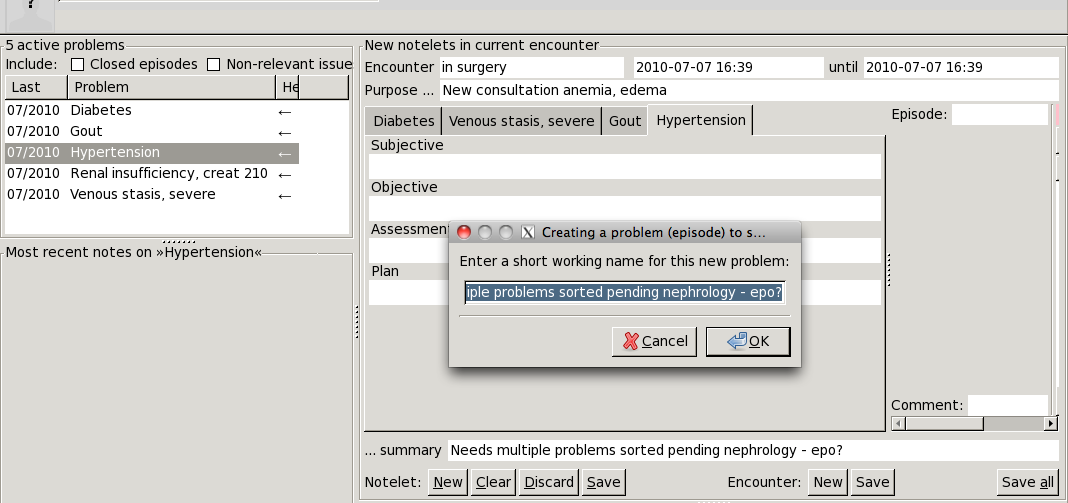 -- Jim


---
---
[Gnumed-devel] Improving the context for creating Episode names, Jim Busser <=
---