[Top][All Lists]
---
[Date Prev][Date Next][Thread Prev][Thread Next][Date Index][Thread Index]
[Gnumed-devel] Love the phrasewheel in Add substance
---
| | |
| --- | --- |
| From: | Jim Busser |
| Subject: | [Gnumed-devel] Love the phrasewheel in Add substance |
| Date: | Thu, 06 Jan 2011 08:30:14 -0800 |
---
What I noticed (hopefully intended) is that -- when searching in "component" 
(see screenshot)

        the string finds matches across the combination of component string AND 
brand string

        the wheel becomes active at 3 characters only for *word beginnings*

                but at 4 characters will also match middle/end strings in words

In the example below:

        "omp." matches on the fragment in (MetoPharm comp.)

        "omp" would find nothing

        "met" would find each of "metoprolol" and "MetoPharm"

        "tab" would find nothing (presumably filter is on the names, not the 
forms)

… have I got the above right?

-- Jim

PS the window on Mac does not open adequately (opens 15% too narrow) & must be 
manually resized. Dunno whether wx allows to say "open windows to auto-zoomed 
width 'as suits KDE' PLUS 15%"?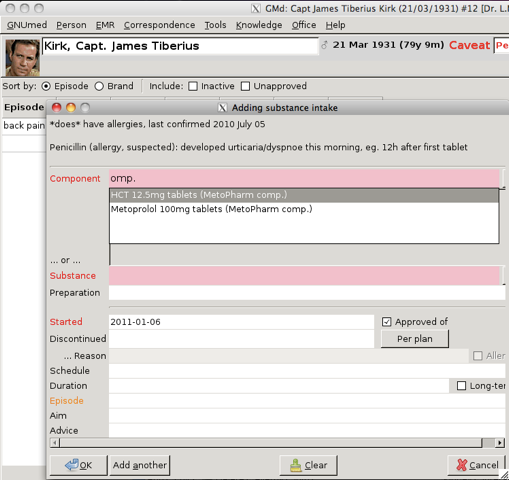 ---
---
[Gnumed-devel] Love the phrasewheel in Add substance, Jim Busser <=
---