Hi Luis 
./trytond -c ../etc/trytond.conf 

I made this and I watch the output that you says me.
address@hidden:/home/gnuhealth/gnuhealth/tryton/server/trytond-3.2.3/bin# ./trytond -c ../etc/trytond.conf 
[Thu Oct 02 19:19:35 2014] INFO:server:using ../etc/trytond.conf as configuration file
[Thu Oct 02 19:19:35 2014] INFO:server:initialising distributed objects services
[Thu Oct 02 19:19:35 2014] INFO:server:starting JSON-RPC protocol on *:8000
[Thu Oct 02 19:25:12 2014] INFO:database:connect to "template1"
And I now can create the gnuhealth database and so follow with the wizard ...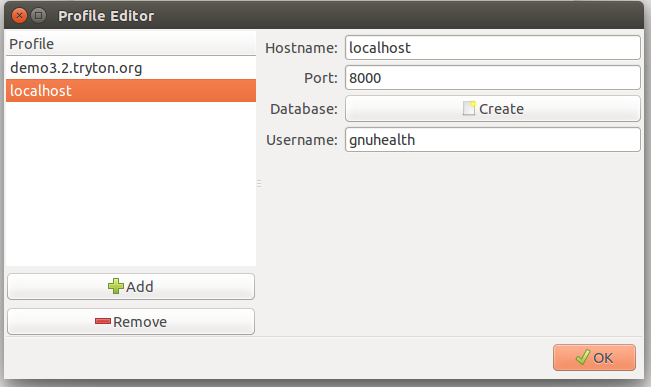 I have some questions:
The interaction with GNUHealth System is just via tryton client? Nothing more?
In this link http://savannah.gnu.org/projects/health/ say that GNU Health is a free Health and Hospital Information System with the following functionality : 
- Electronic Medical Record (EMR) 
- Hospital Information System (HIS) 
- Health Information System 
In the link http://en.wikibooks.org/wiki/GNU_Health/Introduction say that the main areas of GNU Health are :
Individual and community management : demographics, domiciliary units, families, operational areas and sectors, ...
Patient management : Socioeconomics, lifestyle, encounters / evaluations, hospitalizations, lab reports, clinical history, ...
Health center management : Finances, stock, pharmacy , laboratory, beds, operating rooms, appointments, supply chain management, human resources, ...
Information management : Reporting, Demographics and Epidemiology
And so.. in the wiki book talk about of all workflow og the system around of these areas ...
How about GNU Health is to work with medical images?
I'm interesting in teleradioloy and teledermatology functions.....
Thanks for your time and availability 
Best Regards