Hello,
I cannot get results from the "Try It" page. I may be doing something wrong.
I'm using the page here:
In the Input section, I enter a U-label such as "résumé.com".
I select toASCII and other options (see below).
Then I select SUBMIT.
No output is produced. I've turned off my pop-up blocker. I don't think the text in the Output section applies to me. It seems to be hard-coded there. I'm not sure why.
I also tried entering in an A-label such as "xn--rsum-bpad.com" and doing only a Punycode decode.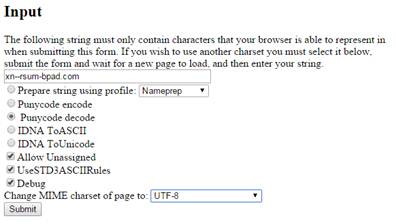 Again, I don't see any discernible output. I may be doing something wrong. Any help is appreciated.
-- John
John Colosi
Senior Manager of Product Development
address@hidden

m: 703-967-4062 t: 703-948-3211
12061 Bluemont Way, Reston VA 20190

<![if !vml]><![endif]>