Hello,
I have just tried to import in KLog 0.9.8.1 and i could import 68 QSO, I think they are all...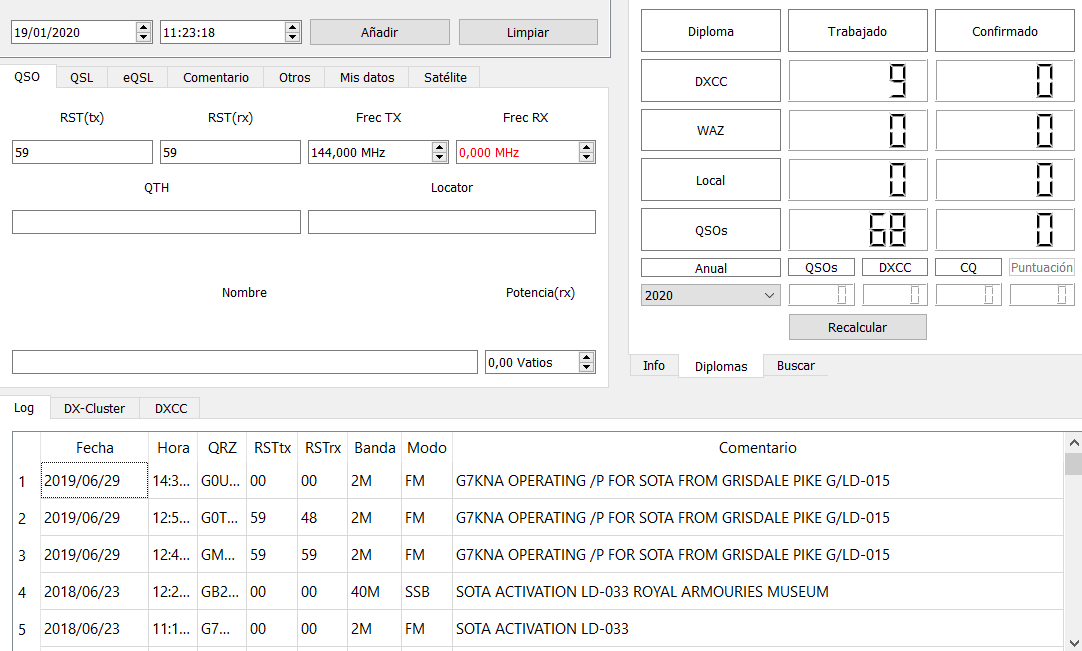 I guess the version you are using were not able to import the log due to the datatype that is shown in your adif file for the date.
It is not wrong, but it seems that KLog was not able to import if that data was included...
I would recommend to use a newer version of KLog ;-)

El 18/01/2020 a las 21:25, AJ escribió:

Hi,

I am running KLog Version 0.9.6 under 64 bit Q4OS which is based on
Debian, output from hostnamectl produces:

Static hostname: q4os-desktop
Icon name: computer-laptop
Chassis: laptop
Machine ID: 5df543fe3ee14e6faa45f85afd1f25fb
Boot ID: f5a5f3c2630b4000802dbe70b9b4e469
Operating System: Debian GNU/Linux 10 (buster)
Kernel: Linux 4.19.0-6-amd64
Architecture: x86-64

I have a small log created in XLog which I have exported in ADIF
format (version 2.2.7).

This file can be reviewed at this link:
https://my.pcloud.com/publink/show?code=XZ31rBkZf2jv8buysrR0NjeyMXbHs4kqWvoX

I now wish to import that ADIF log into KLog but receive an error
message that states:

Error in function: bool FileManager::adifReadLog(const QString&, int)

Is this a bug that has been fixed in versions of KLog later than the
one in the Debian Repositories or do I have a malformed ADIF file or
an error in my local setup.

Any help would be appreciated

Thanks

Andy G7KNA
--
Andy Jenner
Q: What goes; "Pieces of seven, pieces of seven"?
A: A parroty error