---
[Date Prev][Date Next][Thread Prev][Thread Next][Date Index][Thread Index]
[Linphone-developers] Getting Error No such module 'linphonesw'
---
| | |
| --- | --- |
| From: | Safrana Shereen |
| Subject: | [Linphone-developers] Getting Error No such module 'linphonesw' |
| Date: | Thu, 26 Aug 2021 04:29:16 +0000 |
---
In Xcode when I do the Archive to submit build to the TestFlight I'm getting following errors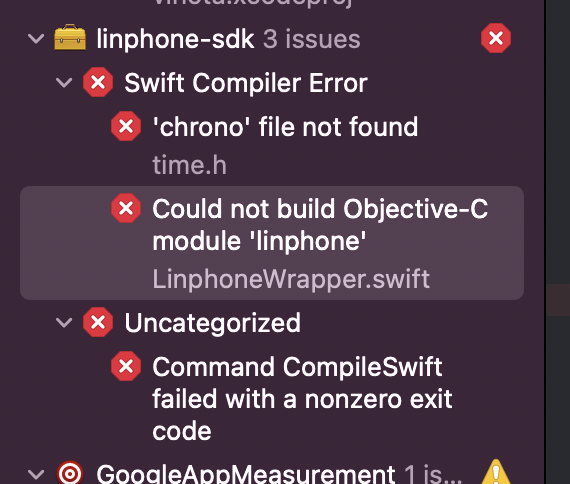 I tried following things to fix this issue.
Quit Xcode.
Delete project's temp files located at

~/Library/Developer/Xcode/DerivedData
Delete

ProjectName.xcworkspace
Delete

Podfile.lock

file and

Pods

folder
Run

pod install.
Open the newly created

ProjectName.xcworkspace

file and build.
But it doesn't fix yet.
Can you please help me to fix this issue.
---
---
| | | |
| --- | --- | --- |
| [Prev in Thread] | Current Thread | [Next in Thread] |
[Linphone-developers] Getting Error No such module 'linphonesw', Safrana Shereen <=
---