---
[Date Prev][Date Next][Thread Prev][Thread Next][Date Index][Thread Index]
[Paparazzi-devel] Improved PFD response with v5.1_devel-237-ge216c61-dir
---
| | |
| --- | --- |
| From: | David Conger |
| Subject: | [Paparazzi-devel] Improved PFD response with v5.1_devel-237-ge216c61-dirty |
| Date: | Fri, 30 Aug 2013 18:13:30 +0000 (GMT) |
---
Hello,
I'm testing, configuring some new UmarimLite boards and am noticing the PFD in GCS is much faster response (apparently). Was something improved? My version: v5.1_devel-237-ge216c61-dirty
For those assembling Umarim boards the ITG3200 is quite easily damaged and not easily soldered completely. I often use a very fine tip soldering iron under a microscope and make sure all the pads are well soldered around the sensor.
For testing it I do a very simple, but effective, test of viewing the raw sensor outputs in GCS/messages. Here's the ITG at rest and in motion (images attached). Rest won't be a perfect 0,0,0 always. If you watch as you do each axis you can see larger values on each axis as you go one direction and the opposite on the axis the sign will change. FWIW: I do this on every Umarim, and let it burn-in sitting for 10-30min to verify no magic smoke etc. Also, this is all done with current limited power supply (at 13.1v)where I can watch the current draw as well. A freshly assembled UmarimLite will draw .01A on first power up to load the boot loader (make upload_bl). Any more ( > .03) and likely you have a short somewhere. Then after it should draw approx .03A when powered to load the code via USB and during normal operation. This is with nothing connected except an FTDI Utility board connected to UART1 for transparent telemetry to the GCS.
I have found the ITG3200 once properly soldered is quite reliable. That said I have in the past sent out for Umarim assemblies and all had failed ITG3200. NOTE: I replaced every one of the ITG3200 and did the above test before shipping. Just as an example apparently companies claiming to be professionals can completely kill that sensor. I myself have had a 100% success rate assembling them and only trust myself now to assemble boards. If you do self-assembly on Umarim and NavGoV3 just take care and if you can under a microscope make sure all pads are well soldered and you have not damaged any pads during assembly.
Best Regards,
David Conger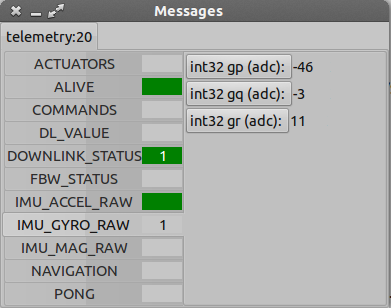 ---
---
[Paparazzi-devel] Improved PFD response with v5.1_devel-237-ge216c61-dirty, David Conger <=
---