---
[Date Prev][Date Next][Thread Prev][Thread Next][Date Index][Thread Index]
[Paparazzi-devel] attitude ref reaches only about half of SP value
---
| | |
| --- | --- |
| From: | Pranay Sinha |
| Subject: | [Paparazzi-devel] attitude ref reaches only about half of SP value |
| Date: | Fri, 15 Nov 2013 06:01:52 +0530 |
---
We're seeing fairly puzzling behavior from the new reference model in master branch. Seems like the reference only reaches up to about ~50% of the setpoint value. 
The attached screenshot illustrates this problem. The vehicle was tied down to the table for this test. Moving the vehicle such that the body phi and theta values lined up with the REF also resulted in actual attitudes ~50% of SP values.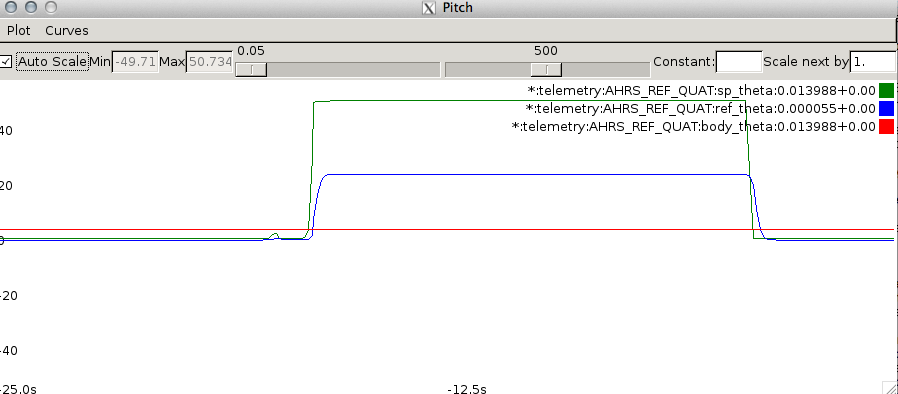 Have any of you encountered this before? Any potential solutions/explanations?
Thanks.
-psinha.
--
Pranay Sinha
Co-founder;
Aerodynamics & Controls Engineer
Transition Robotics, Inc.
P: (831) 426-3733
F: (831) 426-5666 
---
---
[Paparazzi-devel] attitude ref reaches only about half of SP value, Pranay Sinha <=
---