I am trying to export the variable/dictionary list to a text or .csv file. I can get it to show up in the output viewer, but when I try to export it, the file is blank. I want it to look like this: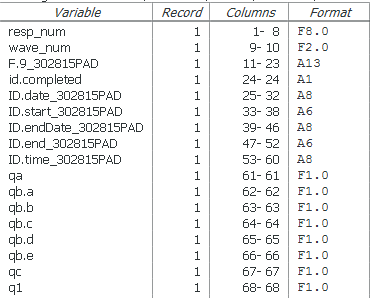 I am using PSPP version 0.10.2-g654fff on Windows 10. We have 1 license for SPSS for our business, however my co-worker has been too busy to run files for me. I am trying to use PSPP since I don't have access to SPSS.
I am not a programmer, so I am taking his .sps files from previous projects and trying to modify them for the project I am working on.
I'm not sure what other information I need to include in my question, so if I should provide more information please let me know.
Stacy Hardin
Product Acceptance & Research
9845 Hedden Rd.
Evansville, IN 47725
<![if !supportLineBreakNewLine]>
<![endif]>
CONFIDENTIALITY NOTICE
This message (including any attachments) contains information that may be confidential. Unless you are the intended recipient (or authorized to receive for the intended recipient), you may not read, print, retain, use, copy, distribute or disclose to anyone the message or any information contained in the message. If you have received the message in error, please advise the sender by reply e-mail, and destroy all copies of the original message (including any attachments).