To:

From:xia mingxing
Tel:86+21-54592323 54592318
FLUID 2006
The 6th China Int'l Fluid Machinery Exhibition
Time: Apr.28-30, 2006
Venue: Shanghai International Exhibition Center
】To grasp the development opportunities to explore Chinese Market
According to the reports of Asian Development Bank, China is fast becoming the significant source of the market demand increase in the global economy, and becoming the center of manufacturing and consumption. Up to now, the Chinese import amount has increased 43%, China has been the 3rd import country in the world. Furthermore, China's access to WTO, Beijing 2008 Olympics and Shanghai World Expo 2010 will greatly improve the investment heat in China. The Chinese huge market welcome your participation, FLUID 2006 will help you to explore the market!
】Reviews of the Past Show
Debuted in 2000, based on the records of rising number of exhibitors and visitors, FLUID 2006 has become one of the most successful industrial shows in the Chinese Fluid Industry. The net exhibiting area of FLUID 2005 is 9000 sqm, and 316 exhibitors from 13 countries and 15527 professional visitors at home and abroad joined us.
Visitors' Positions: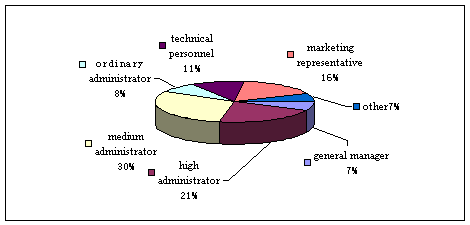 The provinces that visitors come from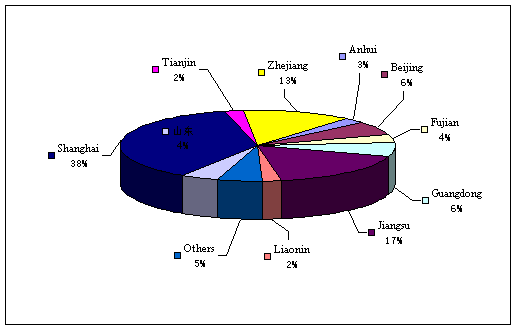 参展商目标达成情况
316 exhibitors displayed their new technological products, and they all satisfied with the trade visitors who came to their booths, over 80% of the exhibitors thought high of the visitors of FLUID 2005.
According to the feedback of the after-show,
1. 83.25% of the exhibitors expressed satisfaction of the show
2. 73.25% of the exhibitors keep the great interest to participate in FLUID 2006
3. 69% of the exhibitors have the common view that FLUID has a unparalleled advantage, and they would recommend FUILD to others.
】Brief Introduction
Preparing time: Apr 26-27, 2006
Exhibiting: Apr 28-30, 2006
Sponsor: China Fluid Engineering Institute
Sub committee of China Machinery Engineering Society
World Expo Group Shanghai FESCO International Exhibition Advertisement Co., Ltd.
Organizer: Shanghai Zhongmao Exhibition Service Co., Ltd
Supporter: Chinese Society for Environmental Sciences
National Engineering and Reseach Center of Fluid Machinery and Compressor
Taiwan Fluid Power Association
Shanghai Environmental Protection Industry Association
Shanghai Water Purifying Technologies Institute
】Sort of Exhibits
Pump, valve, air compressor, controlling system and instrument& meter, filtration, separating equipment, transmitting controller, engine/electrical machinery/part of engine, gear/gearshift box, liquid compressed& air compressed equipment, seal, lubricant etc.
】Supper Powerful Advantages
1. FLUID 2006 is the only one show covering all aspects of Fluid Industry in Shanghai.
2. It is easy access to high quality buyers from Fluid industry.
3. It is easy to apprpach other exhibitors, even to set up alliance or partnership with others.
4. Huge international delegations will make debut display in FLUIT 2006, based on the cooperation with various consulates in China and associations, a bigger delegation from abroad will attend FLUID 2006. up to now, the confirmed regional delegations are from Italy, Korea, Taiwan etc.
5. FLUID 2006 will be the perfect platform for exhibitors, we will make it available for exhibitors to keep touch with potential target clients timely.
6. FLUID 2006 is virtual effect-oriented show, based on the pre-exhibition date services, it is guaranteed that exhibitors can freely keep touch with target clients. There will be visiting delegations from all counties nationwide, which makes it easy for exhibitors to establish their network to grasp business opportunities.
7. The corresponding activity, based on "seminar", the "Fluid Summit" will be the spotlight, and will lead to the mutuality with the show.


8. FLUID 2006 is fully publicized, and it will establish alliance with many authoritative media, which will form the multi-channel publicities.
9. Organizer has the huge database and its official website and on-line hall, which can provide exhibitors with value-added services.
Shanghai, the biggest commercial& industrial city keeping the richest HR in China, has the advanced and perfected law system, which lead to the unparalleled business sphere in Shanghai,
】The Pricing Catalogue of FLUID 2006
1. Booth Fee
A. Standard Booth (min 9 sqm)
Domestic Enterprise: Sort A: RMB980/sqm;
Sort B: RMB880/sqm
Sino-foreign joint venture: RMB1080/sqm
Overseas Enterprise: USD310/sqm
(The facilities include: wall panel, carpet, one table and two chairs, one outlet, one fluorescent lamp, one name board)
B. Restructured Standard Booth (min 9sqm) RMB1180/sqm(not including overseas enterprises)
(Besides the facilities of standard booth, including adding the height of booth, offering one more table and 2 chairs, waste basket, bonsai etc)
C. Indoor Raw Space (min 36 sqm):
Domestic Enterprise:
Sort A: RMB900/sqm;
Sort B: RMB800/sqm
Sino-foreign joint venture: RMB1000/sqm
Overseas Enterprise: USD280/sqm
2. Pricing of Seminars
Exhibitors can apply for holding seminars during the exhibition, 1.0 hour/per
A. RMB5800/per for domestic enterprises
B. RMB7200/per for Sino-foreign joint venture and overseas enterprises.
3. Catalogue Advertisement and Others (Size: 141mmX210mm)
◇Front Cover:RMB20000 ◇Back Cover:RMB 16000
◇Black and White whole page :RMB 2500 ◇Inside front page: ¥12000
◇Color Whole Page:RMB 5000 ◇Words Whole Page:RMB 1000
◇Inside back page: ¥8000 ◇Title page: ¥12000
◇Words Half Page:RMB 500
◇Invitation: RMB4800 pre ten thousand ◇Flying balloon: RMB 1000 per day
◇Ticket: RMB 4000 per ten thousand(min 30 thousand )
◇Air archway: RMB1200 per day
】Detailed Rules and Regulations
1. Fill in the application form for participating in the exhibition and send it by post or fax to the organizers;
2.Please remit or T/T the exhibition cost (50% down payment or full payment) to the organizer within 7 days after making the application. The balance should be paid off before March 28, 2006. We will write a receipt after we receive all the exhibition cost.
3. The exhibitors submitting application form after March 28, 2005 should pay the exhibition cost in full amount at one time.
4. Principle for allocating exhibition site: "First applying, first making payment and first making arrangement"; for double entrance booth, plus 20% charge;
5. The exhibitors should fax the bank bill of payment to the organizer after remitting the full amount of the cost;
6. The exhibitors can have the ordered exhibition site reserved only after they have paid the 50% down payment within the stipulated period;
7. The organizer will send application annual to exhibitors not later than Feb 28, 2006 after receiving the application form and payments.

】to Contact us for latest info
The organizing committee of FLUID 2006:
Contact Person: xia mingxing
E-mail: address@hidden
Website: Http//: www.fluid-sh.com
Add: A/10, Huading Tower,2368 Zhongshan West Rd, Shanghai Zip code: 200235
Tel.:+86-21-54592323 54592318 Fax: +86-21-54253480