Hi All:
I searched the mailing list archives for this issue with negative results.
Issue: an unchanged known-good flowgraph that worked in 3.7.8.1 now fails in the "Generation" stage in 3.7.9 on OSX with the error "No closing quotation".
The relevant screen from OSX: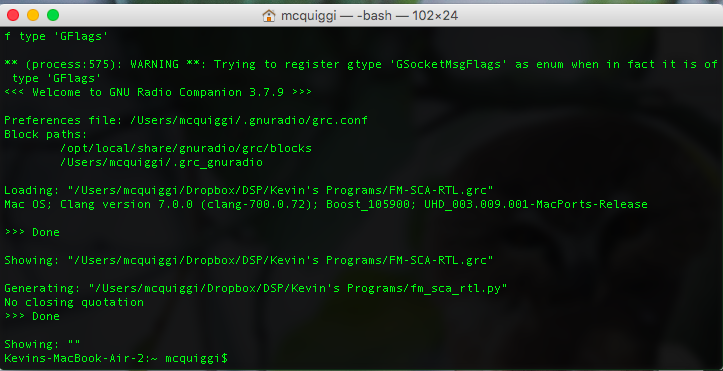 I opened the same flowgraph in my Ubuntu 14.04 machine, still running gnuradio 3.7.8.1, and the flowgraph generates and runs fine.
I use MacPorts on the OSX laptop - it runs "El Capitan" and MacPorts is up to date. Other relevant factors:
Clang version 7.0.0 (clang-700.0.72)
Boost_105900
UHD_003.009.001-MacPorts-Release
I can provide the .grc if that is necessary.
I will be poking around trying to diagnose the problem, but in the meantime here is the obligatory bug report!
Thanks,
Kevin