Using psppire.exe 0.8.4-g3a8f33 on Windows 7 (which is a special debugging version that opens a window showing errors), I cannot replicate the crashes Gross describes but maybe with more step-by-step description I could.

I do see a bug:

1. Create a new data window (File > New > Data; creates a new data window with one cell)
2. Click into the cell, enter 1<enter> (this creates a second column and second row, which works fine)
3.  Press 2<enter>3<enter> (this creates three cases for the first variable and works fine)
3. Click into column 2 and press 1<Enter>2<Enter>3<Enter>

There should be a second variable with also three data values but the second case the 2 does not over-write the existing period and I get a warning in the output window "warning: Data not valid as format F: Number followed by garbage" and the cell value is not changed from "."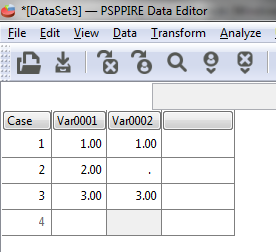 -Alan




On 6/5/2015 12:04 AM, Friedrich Beckmann wrote:

Von:

"Bob Gross - RFG Marketing" <

address@hidden

>




Thank you for getting back to me Fredrich. The version is 0.8.4-g267362. The event is that Windows 7 Professional, Service Pack 1, says "PSPPIRE (PSPP+GUI) has stopped working. The selections are to check online for a solution and close the program OR Close the program.






_______________________________________________
Pspp-users mailing list
address@hidden
https://lists.gnu.org/mailman/listinfo/pspp-users

-- 

Alan D. Mead, Ph.D.
President, Talent Algorithms Inc.

science + technology = better workers

+815.588.3846 (Office)
+267.334.4143 (Mobile)

http://www.alanmead.org

Announcing the Journal of Computerized Adaptive Testing (JCAT), a
peer-reviewed electronic journal designed to advance the science and
practice of computerized adaptive testing: http://www.iacat.org/jcat