The message added to the top of all PSPP windows was:  "UNRELEASED TEST SOFTWARE! NOT FOR PRODUCTION USE!"

I think that's too loud, too scary, and too cryptic and I suggest that it be removed. 

When I started typing this note, I was going to offer a better message, but I think the best course is to remove this string.

First, it makes no sense that it's IN ALL CAPS or uses a BANG! I think most users associate ALL CAPS with SHOUTING and PSPP shouldn't be shouting at it's users.

It's also too cryptic and too scary--most desktop users don't know what "production use" is and they seem to read "UNRELEASED TEST SOFTWARE!" as meaning something like "DO NOT ENTER!" or "ROAD CLOSED!" (or "F**K OFF!").

I think it's also spitting in the face of (at least) the philosophy of GNU and open-source, and perhaps violating the GPL.  For example, the GPL already addresses the issue that the GPL'd software is "as-is" and without any warranty of fitness for any purpose; the actual text from section 15 is:


COPYRIGHT HOLDERS AND/OR OTHER PARTIES PROVIDE THE PROGRAM "AS IS" WITHOUT WARRANTY OF ANY KIND, EITHER EXPRESSED OR IMPLIED, INCLUDING, BUT NOT LIMITED TO, THE IMPLIED WARRANTIES OF MERCHANTABILITY AND FITNESS FOR A PARTICULAR PURPOSE

I think a legal mind might argue that GPL software cannot add terms like "UNRELEASED TEST SOFTWARE! NOT FOR PRODUCTION USE!" to the GPL (or, that's it is unwise).

The message is certainly antithetical to a common FLOSS mantra of "release early, release often" to warn users not to use a "test" version.

It also implies (falsely) that there will, someday, be a "released" and "tested" version of the software that IS "for production use" but that's not true. For windows users, will never (ever) be a released version and the GPL specifically disclaims any "use" so there will literally never be a version of GPL software that is suitable "for production use."

I cannot think of an alternative that I like better and I note that the official GPL advice is to display this:


    <program>  Copyright (C) <year>  <name of author>
    This program comes with ABSOLUTELY NO WARRANTY; for details type `show w'.
    This is free software, and you are welcome to redistribute it
    under certain conditions; type `show c' for details.

but that won't fit on the title bar.  You could put something like "Test version 0.9.0-g636302; please report bugs at http://savannah.gnu.org/bugs/?func=additem&group=pspp" (if it's feasible to insert the version number into the string) and that would at least alert the user that the software might have bugs and tell them where to report bugs. I wouldn't put "beta" or "alpha" in the string, because both of them are potentially misleading (beta implies an alpha, alpha implies a beta; neither would be true).

PSPP may not wish to mirror SPSS too closely but for a long time now SPSS starts with a window (see below). If PSPPIRE also showed a dialog at start, there would be more room for a proper message about the software, news from PSPP, recent files, etc. Note that the dialog has a "Don't show this dialog in the future" checkbox, so users could make it go away.  I don't think this dialog is needed, but it would be an opportunity to adhere more closely to GNU advice about alerting users to the GPL which already covers this ground.

Maybe it's simpler to always print something like the GNU advice to the Output window upon start-up?

-Alan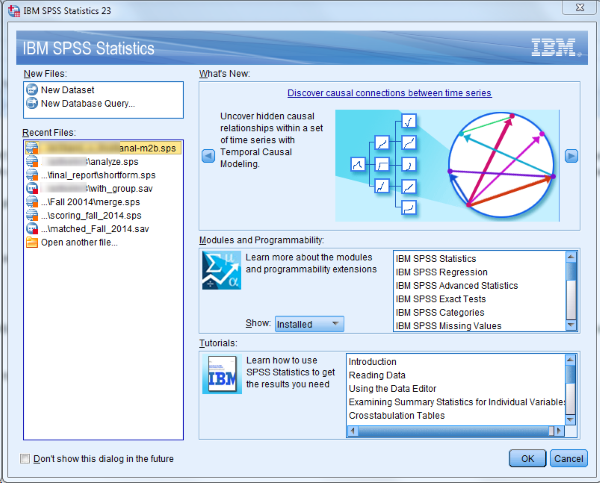 -- 

Alan D. Mead, Ph.D.
President, Talent Algorithms Inc.

science + technology = better workers

+815.588.3846 (Office)
+267.334.4143 (Mobile)

http://www.alanmead.org

I've... seen things you people wouldn't believe...
functions on fire in a copy of Orion.
I watched C-Sharp glitter in the dark near a programmable gate.
All those moments will be lost in time, like Ruby... on... Rails... Time for Pi.

          --"The Register" user Alister, applying the famous 
            "Blade Runner" speech to software development